Professional Hammersmith House Cleaning Services W6 Can Make Your Home Glisten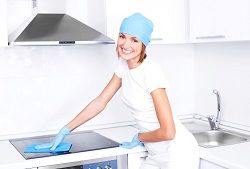 We come home from work every day to a mountain of housework that simply must be done. Oftentimes we hide away or turn a blind eye to the unglamorous jobs about the home that really must be done. Simply many of us are just too busy to complete our housework to a standard that we would ideally like. Do you remember the great feeling that you get when you complete a massive spring clean? One spring clean a year is the most a lot of us can manage. But when we do manage that massive job we feel a whole lot better. We vow to keep up this level of cleanliness but then our busy lives take centre stage and little by little our homes fall back into the messy chaos that we were so keen to get rid of. If you would love this spring clean feeling on a daily or weekly basis then our Hammersmith cleaning services are just right for you. Our staff are always on hand to help you achieve the best domestic home cleaning W14 results possible. We leave bathrooms glittering white, all your living room mess tidied up and put away and leave carpets smelling and looking clean as though they were brand new. Do not leave your housework untended for a second longer and give us a call right away. A friendly member of our staff is ready and waiting to take your call on 020 8434 7348. They will help you arrange a free estimate based on your own unique Hammersmith house cleaning services needs. Hammersmith Cleaners are the house cleaning W6 professionals and tailor their services to the needs of their clients. You will be amazed at our consistently low rates and our consistently high standards of W6 cleaning company service. We already have an extensive list of happy clients and are ready and willing to add you to this ever growing number.
First Class House Cleaning Services in W6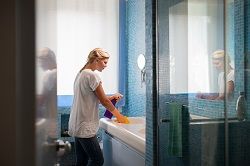 We all want to be proud of our homes and have them looking like a million dollars when we come home from work. Our service ensures that you will not be sweeping the mess under the rug any longer. We can make your home glisten like it never has before. You can avoid the last minute clean up panic just before friends and family come over with our top quality home cleaning Hammersmith services. We aim to make light work out of housework so that you can really relax in beautiful surroundings.
Not only is it important that your home looks great on the surface, it needs to be clean on a deeper level. What we mean by this is combatting the threat of infection that can lurk in everyone's home. The kitchen and bathroom are breeding grounds for bacteria that love to grow and thrive in hot, wet conditions. Of course, in the kitchen this is a serious danger as it is where we prepare our meals. Only by giving our homes a deep cleaning W14 on a regular basis can we avoid the risk of picking up nasty bugs which may leave us feeling more than a little poorly.
Call Hammersmith House Cleaners and Enjoy Your Free Time
So do not put off your housework duties any longer. Do not undertake all this work by yourself and instead put your feet up and relax in a beautiful clean home that you deserve and that the W12 domestic cleaning professionals at Hammersmith Cleaners can provide. Take the first step right away and get in touch with our friendly staff on 020 8434 7348 right now. We can make your home the safe, clean environment that you and your family will want to enjoy.
Save
Save